Slow Cooker Chicken Cordon Bleu
August 10, 2008 in chicken, slow cooker by amanda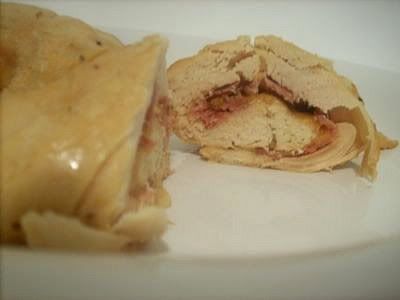 I've mentioned before that I'm not really a big fan of using my crockpot. The only time I really use it is when the husband asks for his beloved stroganoff. But with school starting in a week I've been trying to get into the habit of using it more often.
I went through one of my favorite blogs, A Year of Crockpotting and printed out a bunch of recipes to try within the next few weeks in hopes of finding a few amazing ones to add to my regular rotation. This chicken cordon bleu recipe is one of those recipes and one that will definitely be going on my meal plan again.
I've never had real chicken cordon bleu because I'm just not a fan of big pieces of chicken but now I see that I've been missing some good stuff! I believe the real thing has a crust on it but I like that this recipe one doesn't have anything. I also like that Stephanie (who watched her on Rachael Ray a few weeks ago? I did!) also included a homemade cream of chicken soup recipe. It was so much easier than the recipe I had been using and is much tastier than the canned stuff. Oh, and cheaper. I'm all about the cheap.
I used shredded swiss instead of a slice because that's what I had, and most of the cheese ended up oozing out of the sides. Next time I will definitely buy slices in hopes that the cheese will stay inside. It's a really good recipe overall. We actually ate the leftovers and that hardly ever happens.
| | | |
| --- | --- | --- |
| Slow Cooker Chicken Cordon Bleu | | |
Ingredients
4 chicken breast halves, pounded thin
4-8 slices of ham
4-8 slices of swiss cheese
can of your favorite cream-of-something soup
2 tablespoon low fat milk
Instructions
Spray slow cooker with cooking spray.
Pound chicken breasts flat.
Put a slice of the ham and a slice of the swiss cheese on the chicken breast and roll it up. Put it into the crockpot, seam side down. If desired, top with another piece of ham and cheese. Continue with the other pieces. It's okay to stagger-stack the chicken. It will still cook nicely for you.
Pour cream-of soup into slow cooker. Put the 2 tablespoons of low fat milk into your empty can and swirl it around to get the remaining stuck on good stuff. Pour that in, too.
Cover and cook on low for 6-8 hours, or on high for 4-5. This is done when the chicken is cooked through and has begun to brown on top.

from: A Year of Crockpotting