A few weeks ago I was talking to my friend Pam about Martha Stewart's cookie book. Pam has it and loves it but I'm not a huge Martha fan so I was skeptical. I decided to try out a recipe from Martha's website before buying the book.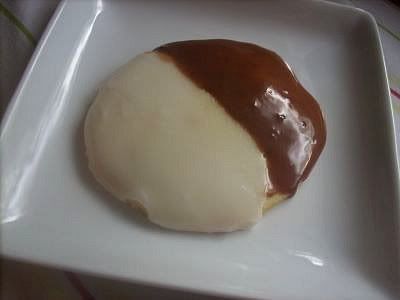 (Please excuse the picture. I took it in my bed because that's where I ate every single one of these cookies. I have no shame.)
I went with Martha's black and white cookies because when I was pregnant and working at Starbucks I ate one of these everyday. My co-workers joked that they always knew when I was there because they would find the remains (the dark chocolate part. bleh) on the desk in the back. I just loved how soft they were with the hard white chocolate on top. Mmm.
These cookies were exactly like my beloved Starbucks cookies. Well I used milk chocolate instead of dark, but that only made them better. They were soft and lemony and perfect.
I still haven't bought Martha's book. It's on my list right after about 30 other things. I definitely want to pick it up eventually. I'm officially sold on Martha.
Black and White Cookies.
from Martha Stewart
Ingredients
1

cup

all-purpose flour

2/3

cup

cake flour

not self-rising

1/2

teaspoon

baking powder

1/4

teaspoon

salt

2

large eggs

3/4

cup

granulated sugar

1/2

cup

milk

6

tablespoons

unsalted butter

melted and cooled

1/2

teaspoon

pure vanilla extract

1/2

teaspoon

pure lemon extract

2

cups

confectioners' sugar

sifted

2

tablespoons

light corn syrup

plus more if needed

1 1/2

ounces

bittersweet chocolate

melted
Instructions
Preheat oven to 350 degrees. Sift together flours, baking powder, and salt; set aside. In a medium bowl, whisk eggs and sugar until smooth. Add milk, and whisk to combine. Whisk in melted butter and extracts. Add flour mixture, and stir to form a smooth dough. Cover, and chill for 1 hour.

Line baking pans with Silpat nonstick baking mats. Using a 2-ounce scoop, drop five cookies per pan, 3 inches apart. Bake until edges are light brown, 12 to 15 minutes. Transfer cookies to a wire rack set over parchment paper to cool.

In a small bowl, combine confectioners' sugar, 3 tablespoons hot water, and corn syrup. Whisk until smooth. Using a small offset spatula, ice half of each cookie. Return cookies to rack to drip, if necessary.

Add chocolate to remaining icing. Stir until smooth. Add additional corn syrup to thin to desired consistency, if necessary. Spread chocolate icing over second half of each cookie. Allow cookies to set, about 10 minutes.
Comments
comments