I've been bookmarking chicken piccata recipes for months now. I have at least 10 of them saved but I have been to scared to give it a try. For some reason I have myself convinced that I hate lemons, especially lemon on chicken. Plus every recipe that I find serves the chicken over pasta and I don't like that idea.
Well not too long ago Chocolate Shavings did a chicken piccata post and the chicken was by itself on a plate with a couple slices of lemon! Perfect.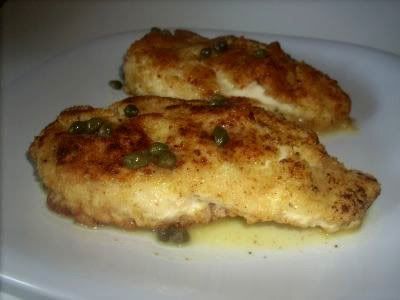 This is officially my new favorite way to cook and eat chicken. The sauce was amazing and I couldn't stop spooning it on top of my chicken. I didn't expect to like the capers but they weren't as bad as I expected. Not something I could have every night but decent.
I'm planning on making this again in a few weeks but making a lot more so we can have leftovers.
Chicken Piccata.
Ingredients
2

split

1 whole boneless, skinless chicken breasts

Kosher salt and freshly ground black pepper

1/2

cup

all-purpose flour

1

egg

1/2

tablespoon

water

3/4

cup

seasoned dry bread crumbs

Good olive oil

3

tablespoons

unsalted butter

room temperature, divided

1/3

cup

freshly squeezed lemon juice

2 lemons

1/2

cup

dry white wine

2

tablespoons

of capers

washed and drained

Sliced lemon

for serving

2

teaspoons

of dried oregano
Instructions
Preheat the oven to 400 degrees F. Line a sheet pan with parchment paper.

Place each chicken breast between 2 sheets of parchment paper or plastic wrap and pound out to 1/4-inch thick. Sprinkle both sides with salt and pepper and dried oregano.

Mix the flour, 1/2 teaspoon salt, and 1/4 teaspoon of pepper in a shallow plate. In a second plate, beat the egg and 1/2 tablespoon of water together. Place the bread crumbs on a third plate. Dip each chicken breast first in the flour, shake off the excess, and then dip in the egg and bread crumb mixtures.

Heat 1 tablespoon of olive oil in a large saute pan over medium to medium-low heat. Add the chicken breasts and cook for 2 minutes on each side, until browned. Place them on the sheet pan and allow them to bake for 5 to 10 minutes while you make the sauce.

For the sauce, wipe out the saute pan with a dry paper towel. Over medium heat, melt 1 tablespoon of the butter and then add the lemon juice, wine, 1/2 teaspoon salt, and 1/4 teaspoon pepper. Boil over high heat until reduced in half, about 2 minutes. Off the heat, add the remaining 2 tablespoons of butter and the capers, and swirl to combine. Pour the sauce over the chicken breasts.
Comments
comments