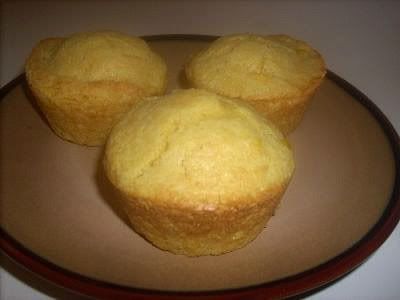 I don't think it's any surprise when I say that Dorie's book has become my go-to when it comes to baking. Whenever I get the urge to bake something, it's the first book I flip through. Even though I probably shouldn't since TWD will eventually bake all the recipes. Oh well, Dorie's recipes are worth baking twice.
Recently I wanted cornbread, and you guessed it, I turned to Dorie for help. I made Dorie's corn and pepper muffins not long ago and we loved them so I had hopes for these. Ehh. I guess they're good for basic cornbread but nothing amazing. I had a problem with them being too dry just like my corn and pepper muffins so I'm not sure what's going on there. Maybe it has to do with the crazy Alabama weather? Who knows.
These are good muffins, but I'll add a few things next time. Maybe some cheese. Mmm. That would be heavenly.
Corniest Corn Muffins.
from Baking: From My Home to Yours
Ingredients
1

cup

all-purpose flour

1

cup

cornmeal

6

tablespoons

sugar

2 1/2

teaspoons

baking powder

1/4

teaspoon

baking soda

1/2

teaspoon

salt

Pinch

of freshly grated nutmeg

optional

1

cup

buttermilk

3

tablespoons

1 1/2 ounces unsalted butter, melted and cooled

3

tablespoons

corn oil

1

large egg

1

large egg yolk

1

cup

corn kernels

add up to 1/3 cup more if you'd like, fresh, frozen or canned (in which case they should be drained and patted dry)
Instructions
Center a rack in the oven and preheat the oven to 400°F. Butter or spray the 12 muffin molds in a regular-size muffin tin, or fit the molds with paper muffin cups.

Working in a large bowl, whisk together the flour, cornmeal, sugar, baking powder, baking soda, salt and nutmeg. In a large glass measuring cup with a spout or in another bowl, whisk together the buttermilk, melted butter, oil, egg and yolk. Pour the liquid ingredients over the dry ingredients and, with the whisk or a rubber spatula, gently but quickly stir to blend. Don't worry about being thorough – the batter will be lumpy and that's just the way it should be. Stir in the corn kernels. Divide the batter evenly among the muffin molds.

Slide the pan into the oven and bake 15 to 18 minutes, or until the tops are golden and a knife inserted into the center of the muffins comes out clean. Pull the pan from the oven and carefully lift each muffin out of its mold and onto a rack to cool.
Comments
comments