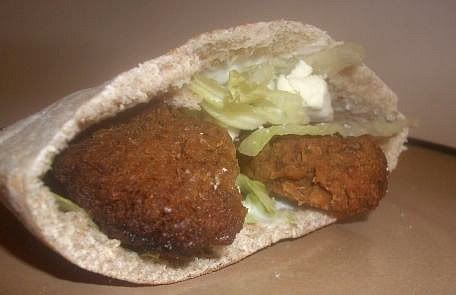 Oh yes, another crockpot meal. And once again, the recipe comes from A Year of Crockpotting.
I must admit that I had my doubt about this recipe. Wouldn't the falafel become mushy sitting in an oily crockpot all day? Nope, not at all. They became crisp on the outside, even on top, just like falafel you'd get at a restaurant.
The kid and I loved these. Husband, not so much. He had never had falafel before these and he just thought they were plain weird. That's fine though. More for me. I always do meatless lunches when the husband is working so these are going into my regular rotation.
A little advice though: DON'T try to flip them. Like I said, I doubted they would brown so I attempted to flip one of them and it fell apart completely. Just trust me when I say that it will become brown.
Crockpot Falafel.

Ingredients
1 15 oz can garbanzo beans
1/2 onion finely diced
1 tablespoon dried parsley
2 cloves minced garlic
1 egg
1 teaspoon kosher salt
1/4 teaspoon black pepper
2 teaspoon ground cumin
1 teaspoon ground coriander
1/4 teaspoon cayenne pepper
juice from 1 lemon
1/2 to 3/4 cup bread crumbs
2 T olive oil
Instructions
Drain garbanzo beans. Dump them into a mixing bowl and smash them with a fork. Set aside.

Get out your blender or food processor. Blend together all of the spices, the onion, the garlic, the egg, and the lemon juice.

Pour on top of your smashed garbanzo beans. Use your fork to mix together, and add the breadcrumbs slowly until the mixture is wet and sticky but can be formed into balls nicely. I needed 3/4 of a cup of breadcrumbs.

Pour 2 T of olive oil into the bottom of your crockpot stoneware insert.

Form squished golf-ball sized patties of falafel. Dip each side into the olive oil and then nestle into your crockpot. It's okay if they overlap or are on top of each other.

Cook on high for 2-5 hours. Ours cooked on high for 3.5 hours–you will know that the falafels are done when they turn brownish-golden. You can flip them halfway through the cooking time if you feel like it, but they will brown on top even without flipping.
Comments
comments