It's gotten far too easy for me to fall into a lunch rut. The kid eats pretty much the same thing everyday: a slice of ham or turkey, green beans, peas, carrots, or a combination of the 3, and a piece of fruit. Me? I usually skip lunch because I never know what to eat. So my new goal is to make a couple lunches each week. Actual meals, not PB&J.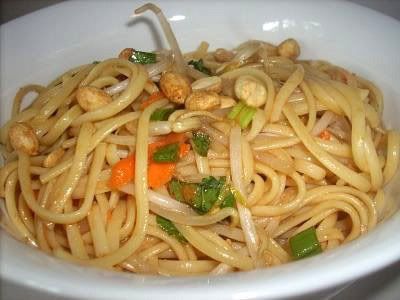 My first attempt was this oh-so-pretty Crunchy Thai Noodle Salad. It was colorful and fun and I'm sure most people would really like it. One of the main ingredients of the dressing is sesame oil and I always seem to forget that I hate sesame oil. I love the smell of it, but I hate the taste. Weird, right? I think I'm going to play around with it and see if I can find a good substitution that's not so over-powering.
That being said, the husband shocked me by eating 2 huge bowls of it. Normally he turns his nose up at anything that doesn't have a large piece of meat sticking out of it. Even the kid ate a bowl of it.
Crunchy Thai Noodle Salad
Ingredients
For the dressing:
3

tablespoons

sesame oil

3

tablespoons

canola oil

1/4

cup

tamari soy sauce

3

tablespoons

lime juice

2

tablespoons

tomato paste

2

tablespoons

honey

1

tablespoon

minced fresh ginger

3

garlic cloves

minced

1/2

teaspoon

crushed red pepper flakes

1/2

teaspoon

salt
For the salad:
1

pound

spaghetti or linguine

2

cups

mung bean sprouts

1

cucumber

peeled, seeded, and cut into matchsticks

1

carrot

peeled and grated

3

scallions

very thinly sliced

2

tablespoons

shredded fresh basil

2

tablespoons

finely chopped fresh mint

2

tablespoons

finely chopped cilantro

1/4

cup

chopped dry roasted peanuts
Instructions
Cook noodles until al dente. Drain thoroughly and rinse the noodles under cold running water. Place noodles in a very large serving bowl.

In a medium sized bowl whisk together all the ingredients for the dressing. Pour the dressing on the noodles and toss well. Mix in all remaining ingredients except peanuts. Let the noodles sit for at least 30 minutes before serving. Serve with the chopped peanuts sprinkled on top.
Comments
comments