Well haven't I been a bad Daring Baker? I've sat out the last two challenges but I'm back. June's challenge was chosen by Kelly of Sass & Veracity and Ben of What's Cookin'?. The recipe they chose was a danish braid which sounded pretty intimidating at first. After reading through the recipe I realized that it's a pretty basic pastry dough but then you fold in a butter block, which is just butter and flour. It ended up being really easy and really fun, although all the turning and folding left me a little confused.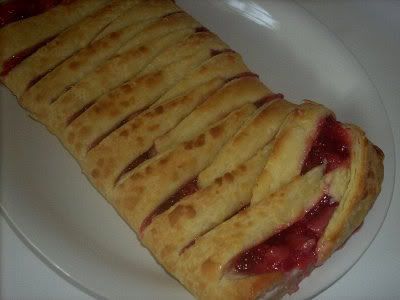 We were given the option of using an apple filling recipe that was provided to us but I decided to go with something a little more exciting. So I bought rhubarb for the first time and decided to get over my fear of the funny looking stuff. I ended up making an amazing strawberry and rhubarb filling but I can't for the life of me remember exactly how I did it.

I also softened a block of cream cheese, mixed in some powdered sugar, and spread that out over the dough before I added the filling. It turned out great!
To see the full recipe, head over to Kelly's blog. And check out the blogroll to see all the different variations the DBs came up with.
Comments
comments