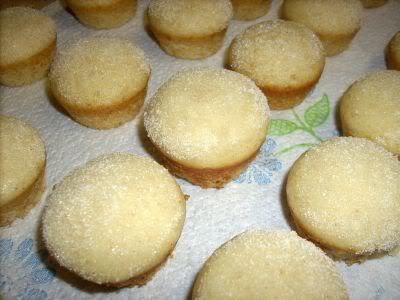 I've really been slacking with breakfasts lately. Before this semester, I always had the freezer stocked with whole wheat waffles, muffins, and other "fresh" baked goodies. Lately breakfasts have been instant oatmeal, toast, or anything else that's easy and quick. Easy and quick for me that is. Husband doesn't have time for any of that in the morning and I'm usually not awake when he leaves. So poor guy goes all day without eating.
In an effort to get him to eat breakfast, I made these muffins. I got the recipe from a cupcake community I frequent and literally made them the day I saw the recipe. The husband loves doughnuts but I suck at frying so I figured this was the next best thing.
To me these are more likes cupcakes. They are pretty dense compared to most muffins but they really are good. Pretty addicting, actually. So far it's looking like none are going to make it to the freezer but that's okay because they were very simple to make.
Doughnut Muffins
Ingredients
3/4

cup

sugar

1

large egg

1 1/2

cups

all purpose flour

2

tsp

baking power

1/4

tsp

salt

1/4

tsp

ground cinnamon

1/4

cup

vegetable oil

3/4

cup

milk

1

tsp

vanilla extract

1

tbsp

butter

melted

1/3

cup

sugar

for rolling
Instructions
Preheat oven to 350F. Lightly grease a muffin tin with cooking spray.

In a large bowl, beat together sugar and egg until light in color.

In a small bowl, whisk together flour, baking powder, salt and cinnamon.

Pour into egg mixture and stir to combine.

Pour in vegetable oil, milk and vanilla extract.

Divide batter evenly into 12 muffin cups, filling each about 3/4 full.

Bake for 15-18 minutes, until a tester inserted into the center comes out clean.

While muffins are baking, melt butter and pour remaining sugar into a small bowl.

When muffins are done, lightly brush the top of each with some melted butter, remove from the pan and roll in sugar.

Cool on a wire rack.
Comments
comments