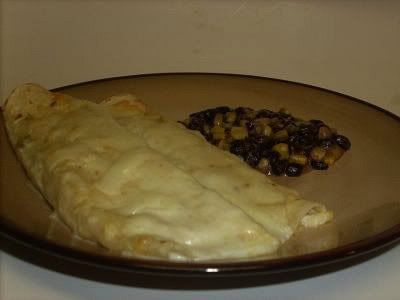 I've had this recipe saved in my blogreader for months now. See, we have a favorite enchilada recipe and I was a little nervous to try a new one. But let me tell you, it was worth it. It was even worth the $8 I had to pay for Monterey Jack.
The honey and lime somehow… just worked. The honey was more noticable and it went fabulously with the chili powder. The spicy and sweet… YUM! I posted the recipe on a forum I frequent and I've already had two people tell me that they tried and loved it.
I definitely recommend this for EVERYONE and I'll be making it again as soon as I find Monterey Jack on the cheap. Oh, but make more of the honey mixture! I didn't have nearly enough.
Honey Lime Enchiladas.
Ingredients
6

tablespoons

honey

5

tablespoons

lime juice

approx. 1 large lime

1

tablespoon

chili powder

use a little less for a milder version

1/2

teaspoon

garlic powder

1

pound

chicken

cooked and shredded

8-10

flour tortillas

1

pound

monterey jack cheese

shredded

16

ounces

green enchilada sauce

1

cup

heavy cream
Instructions
Mix the honey, lime juice, chili powder and garlic together and toss with the shredded chicken. Let it marinate for at least 1/2 hour (or toss together in a ziploc bag and let it sit in the fridge for a few hours).

Pour about 1/2 cup enchilada sauce on the bottom of a 9X13 baking pan. Fill flour tortillas with chicken and shredded cheese, saving about 1 cup of cheese to sprinkle on top of enchiladas. Mix the remaining enchilada sauce with the cream and leftover marinade. Pour sauce on top of the enchiladas and sprinkle with cheese. Bake at 350 degrees for 30 minutes until brown and crispy on top.
Comments
comments