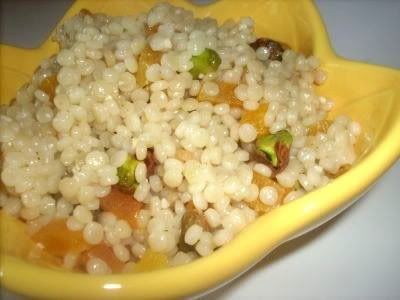 I've been dying to try Israeli couscous since I first learned of it's existence. I finally found some at The Fresh Market about a month ago and it's been sitting in my pantry ever since. I had no idea what to do with it! I finally settled on a recipe I saw over on Starting from Scratch that includes pistachios and dried apricots. I probably should have thought about the fact that I hate dried apricots but her pictures were too pretty to think negative thoughts like that.
Needless to say, I didn't like it. It wasn't just the apricots though. I didn't like the texture of the couscous. It was just an inbetween size that I didn't like. It wasn't small like regular couscous but it wasn't big like normal pasta. The husband and the kid both gobbled this up so I'm sure a person with a normal relationship with food would love it.
Israeli Couscous with Pistachios and Apricots.
Ingredients
2

tablespoons

olive oil

3

garlic cloves

2

cups

Israeli couscous

2 1/2

cups

water

1

cinnamon stick

1

tsp

ground cumin

several pinches of freshly ground black pepper

1/2

tsp

salt

zest from 1 lime

1/4

cup

chopped fresh mint

1/2

cup

chopped dried apricots

chopped to the size of raisins

1/2

cup

shelled pistachios

juice from 1/2 lime
Instructions
Preheat a large heavy bottomed skillet over medium-low heat. Place the garlic and oil in the pan and saute for 1 minute. Add the couscous, raise the heat to medium, and stir pretty constantly for 4 to 5 minutes; the couscous should start to toast. Add the water, cinnamon stick, cumin, cardamom, pepper, salt, and lime zest. Raise the heat and bring to a boil. Once the mixture is boiling, lower the heat again to as low as possible and cover. In about 10 minutes, most of the water should have been absorbed. Add 2 T of the mint, and the apricots, pistachios, and lime juice. Stir, cover again, and cook for 5 minutes more. At this point, the water should be thoroughly absorbed. Remove the cinnamon stick, fluff the couscous with a fork, garnish with the remaining mint, and serve.
Comments
comments