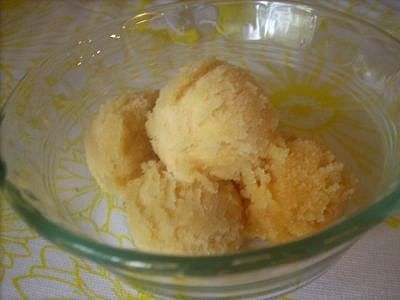 My mom was nice enough to buy me an ice cream maker a few weeks ago. I had bought her the same one back at Christmas and she loved it so much that she thought I should have one too. I can't even tell you how excited I was to get it. I've been pulling ice cream recipes out of magazines for months hoping that I would get one eventually.
I came home that night, washed everything out, cranked the freezer up as high as it would go, and hoped that inner piece would freeze quickly. I ended up staying awake most of the night waiting for my first batch of sorbet but it was so worth it. I just wish I would've remembered to turn the freezer back down. The container my sorbet went into eventually cracked. Poo.
The Lemonade Iced Tea Sorbet was lovely though. Being from Alabama, I'm a sweet tea kind of girl. No lemon, please. But I really enjoyed this sorbet. It was tart but still sweet. It's definitely a keeper, even if the husband refused to even try it.
| | | |
| --- | --- | --- |
| Lemonade Iced Tea Sorbet. | | |
Ingredients
2 cups boiling water
4 regular-sized English Breakfast tea bags
3/4 cup sugar
3/4 cup fresh lemon juice (about 4 lemons)
1 cup ice water
Instructions
Combine 2 cups boiling water and tea bags in a large bowl; steep 5 minutes. Discard tea bags. Add sugar to tea mixture, stirring until sugar dissolves. Cool completely. Stir in juice and 1 cup ice water; chill 1 hour.
Pour tea mixture into the freezer can of an ice-cream freezer; freeze according to manufacturer's instructions. Spoon sorbet into a freezer-safe container. Cover and freeze 1 hour or until firm.

from: Cooking Light
Comments
comments