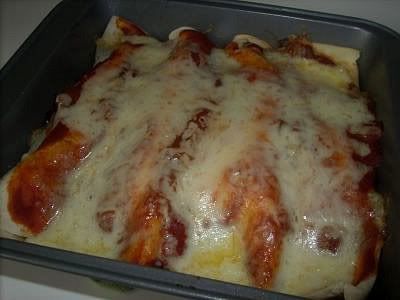 I've been trying to go meatless once a week partly to save money and partly just because I prefer it that way. It's not easy with my meat-loving husband so most of the time I end up doing burritos or enchiladas since black beans can fool him.
The husband has a favorite enchilada recipe but it uses chicken so I decided to try a new recipe. It uses 3 cans of black beans, half of which you mash. It also calls for a thin slice of cream cheese to be wrapped up inside each enchilada so I knew we had a winner here. He ended up loving these and didn't realize there was no meat until he was done and I confessed.
Smoky Black Bean Enchiladas.
from Vegetarian Classics
Ingredients
For the filling:
1

chipotle pepper

preferably canned in adobo sauce

1

tablespoon

olive oil

1

medium onion

minced

3

15-ounce cans of black beans, rinsed

3/4

cup

orange juice
For the sauce:
1

cup

mild or medium salsa

1

cup

tomato sauce

1

teaspoon

dried oregano

1

teaspoon

ground cumin

12

6-inch corn tortillas

6

ounces

light cream cheese

cut into 12 slices

2

cups

grated Monterey Jack cheese
Instructions
Mince chipotle pepper with knife and fork, being careful not to get any on your skin. (If using a dried chipotle, cover it with boiling water and let sit for 10 minutes before mincing.)

Heat oil in a medium saucepan over medium heat. Saute onion and chipotle pepper until soft. Stir in beans and orange juice. Simmer 10 minutes. Using the back of a large spoon, mash half of the beans. COok the beans a few more minutes or until they become the texture of mashed potatoes. Set aside while you make the sauce.

Combine salsa, tomato sauce, oregano, and cumin in a bowl.

Preheat oven to 350.

Wrap the tortillas in foil and bake 10 minutes to soften. Let cool slightly. Keep the oven on.

Lightly oil 2 shallow baking dishes. Pour a thin layer of sauce on the bottom of each dish. To assemble the tortillas put about 6 tablespoons of filling on each tortilla. Top with a slice of cream cheese. Roll the enchiladas and place seam side down into a baking dish. Repeat until all 12 tortillas are filled and rolled. Pour the sauce over the enchiladas and sprinkled on the Monterey Jack. Cover the dishes with foil. (At this point you can refrigerate the enchiladas up to 4 hours. Bring to room temperature before baking.)

Bake, covered, for 25 minutes or until just heated throughout. Let sit 5 minutes before serving.
Comments
comments