I think this was my favorite TWD week yet! Madam Chow was up to bat and chose Dorie's Pecan Honey Sticky Buns. The day before the recipe was announced, my husband and I sat on the couch together practically drooling over the picture of these sticky buns in Dorie's book so I squealed with delight when I saw the announcement.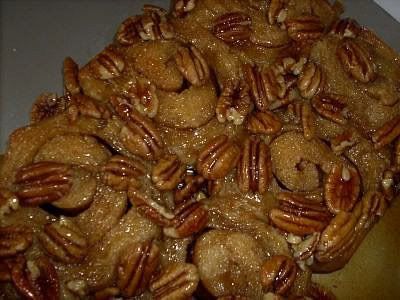 The sticky buns start with a brioche dough which I've never made before. It wasn't really hard to do, but I thought my poor stand mixer was going to explode. After 10 minutes of mixing, my dough still looked more like batter so I ended up adding quite a bit more flour to it. So that caused me to worry that I'd really messed up the dough but it rose like a champ. I punched it down every 30 minutes for 2 hours just like Dorie said and was able to roll it out with no problems the next morning. After I filled and rolled the dough up, I had to stick it in the freezer for a few minutes because the rolls weren't keeping their shape as I tried to cut them. Worked perfectly.
These sticky buns did not disappoint. They were gooey and sticky and delicious right out of the oven. I don't usually like honey and found it to be a bit overpowering at first, but after my 4th sticky bun (yeah…) I really started to like it. My only complaint is that after I put them in the fridge they were really hard to separate and I broke them all in half trying to get one. By that point, though, I wasn't so much worried about appearance as I was wanting to shove them in my mouth.
I see these become a regular in our weekend breakfast routine and I plan on telling everyone I know about them. Mmm. To see the rest of the sticky buns check out the Tuesdays with Dorie blogroll.
Comments
comments