It's not often I get to cook breakfast for all three of us. With the husband's schedule and my need for three cups of coffee before I'm fully functional, most days Landon and I have oatmeal or Kashi waffles. This weekend though, the husband has THREE WHOLE DAYS off.
I decided to make some cinnamon rolls last night, leave them in the fridge, let them rise in the morning, and then bake them off. Well… I made the rolls. I left them in the fridge. And they didn't want to rise this morning. I blame my refrigerator. It likes to freeze things occasionally and I think my rolls were the recipient of it's little prank today. I ended up turning the oven on for a few minutes, turning it off, and then putting the rolls in and they rose perfectly.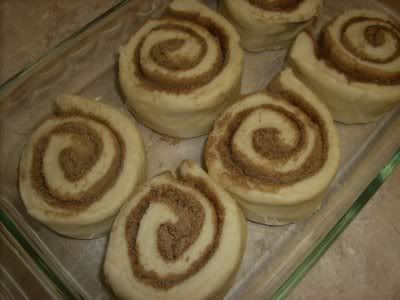 I'm not a cinnamon roll person. I think they're one of those things that you either love or you couldn't care less about. I used the "Clone of a Cinnabon" recipe from AllRecipes but I don't think I've ever had a Cinnabon so I can't tell you how much like the original they really are. But they were good. Much better than any cinnamon roll I've ever had.
When I Grow Up, I'm Going To Be a Cinnabon.
Ingredients
For the dough:
1

cup

warm milk

110 degrees F/45 degrees C

2

eggs

room temperature

1/3

cup

margarine

melted

4 1/2

cups

bread flour

1

teaspoon

salt

1/2

cup

white sugar

1

packet dry active yeast
For the filling:
1

cup

brown sugar

packed

2 1/2

tablespoons

ground cinnamon

1/3

cup

butter

softened
For the frosting:
1

3 ounce package cream cheese, softened

1/4

cup

butter

softened

1 1/2

cups

confectioners' sugar

1/2

teaspoon

vanilla extract

1/8

teaspoon

salt
Instructions
Dissolve yeast in warm milk in a large mixing bowl. Mix in sugar, margarine, salt and eggs. Add flour slowly until combined. Knead dough until smooth and elastic. Place dough in a large greased bowl, cover, and let rise until doubled in size.

Once dough has doubled in size, combine brown sugar and cinnamon in a small bowl. Set aside.

Preheat over to 350.Roll out dough to a 16 by 21 inch rectangle. Spread butter evenly over dough and sprinkle with brown sugar mixture. Cover and let rise until doubled. (Or refrigerate overnight and allow to rise in the morning.)

Bake rolls in preheated oven for 20 minutes or until golden brown. While rolls are baking combine butter, cream cheese, powdered sugar, vanilla, and salt. Spread frosting oven warm rolls before serving.
Comments
comments