S'mores Cheesecake Bars – delicious chocolate chip cheesecake bars topped with marshmallows, graham crackers, and Hershey's bars!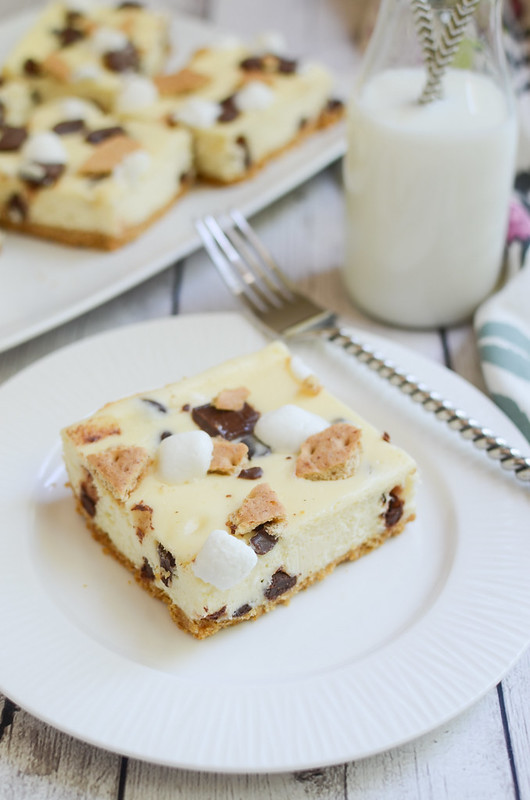 S'mores Cheesecake Bars Recipe!
When I'm not eating cheesecake, I am 100% convinced that I don't like it. Which is ridiculous for a couple reasons. A) Cheesecake is DELICIOUS and B) I once admitted to eating an entire cheesecake with my BFF while myspace stalking our ex-boyfriends.
So when Nicole and I set out on this s'mores week project I decided to make a cheesecake because I, like just about every other wife of a deployed serviceman, am trying to lose a few pounds before my husband comes home and I knew without a doubt that the cheesecake would not sit in the fridge and call my name until I finally got out of bed at 5:30 am to have a piece. Because I don't like cheesecake.
Duh.
But guess who was standing in front of the fridge yesterday morning with a cheesecake bar in her hand while she waited for the coffee to brew.
I don't even need to tell you how good these bars are. I mean they're portable cheesecake pieces with s'mores fixins on top! That can't possibly be bad.
And I love making cheesecake bars instead of a cheesecake because they are so much easier. No worrying about a water bath or a cracked top. They come out perfect every time!
Nicole made S'mores Campfire Banana Splits – go check them out!
S'mores Cheesecake Bars
Ingredients
2

cups

graham crackers

1/3

cup

butter

melted

3

tablespoons

sugar

4

bricks

8 ounces each cream cheese, softened

1

cup

sugar

1

tablespoon

vanilla

3

tablespoons

flour

4

eggs

1/2

cup

semisweet chocolate chips

1/2

cup

chopped Hershey's chocolate bar

1

cup

mini marshmallows

4

graham crackers

coarsely chopped
Instructions
Preheat oven to 350F. Line a13x9-inch pan with foil, with ends of foil extending over sides.

Mix with the graham cracker crumbs, butter and 3 tablespoons sugar together until all the crumbs are moistened; press onto bottom of prepared pan.

In the bowl of a mixer fitted with a paddle attachment, beat together cream cheese, 1 cup sugar and vanilla in large bowl until smooth. Sift in flour; mix well. Add eggs, 1 at a time, mixing on low speed after each just until blended. Stir chocolate chips into cream cheese mixture with a rubber spatula. Pour over crust.

Bake 30 minutes; remove from oven and sprinkle with Hershey's chocolate bar, mini marshmallows, and chopped graham crackers. The top of the cheesecake will be almost set - don't be afraid to press the toppings down into it slightly. Bake for another 10 minutes or until center is almost set. Cool completely. Refrigerate at least 4 hours. Use foil handles to lift cheesecake from pan before cutting into bars.
Things you may need for this recipe:
Want more s'mores recipes?
Comments
comments