Pumpkin Peanut Butter Dog Ice Cream – keep your pup cool all summer with this 4 ingredient recipe! The pumpkin and the yogurt are both great for your dog's digestive system so you can feel good giving them treats.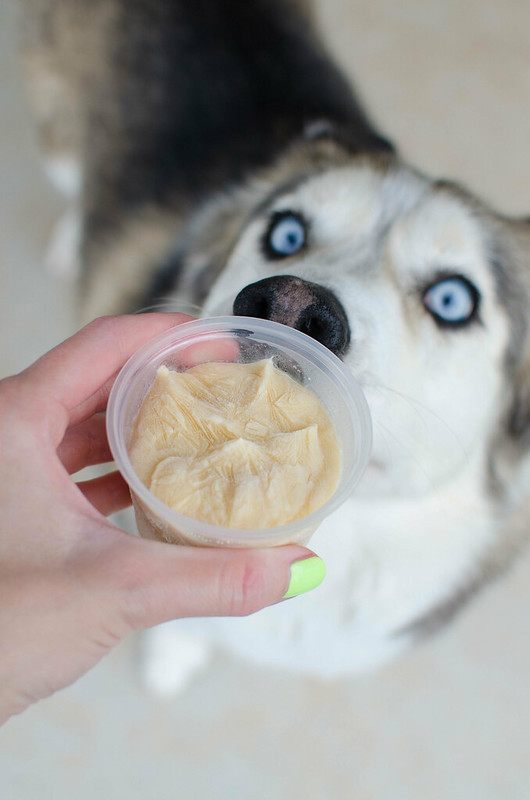 Since I've been kid free, I've been hanging out a lot more with adults and people I don't really know and I've had to explain my blog a lot.
It always comes out, "Well, it's mostly paleo but I do a lot of dog treats and cocktails and uhh… *nervously downs entire glass of wine* yeah, paleo."
Okay, so Texas is extra hot this year.
Like, it's steamy.
Last summer, we spent entire days at the lake. This year? Two hours and we're done.
It's too hot.
Obviously the dogs are hot, too. Especially the husky. She loves to be outside but she's just miserable. Even when we wait until after sundown to take her for walks, she still pants for hours afterwards.
(Clementine just got a haircut! Isn't she cute?!)
How to Make Pumpkin Peanut Butter Dog Ice Cream
Obviously ice cream is the answer for everything.
I love buying the dog ice cream at the grocery store but the're, like, 6 bucks a box and they only come with 4 cups and when you have 3 dogs, that doesn't work.
So I started making my own homemade dog ice cream years ago and it's stupid cheap to make. Start with a base of good quality whole milk yogurt and for this one, I mixed in pumpkin (make sure pumpkin is the only ingredient!), peanut butter, and a little honey.
Pumpkin is so good for dogs digestion and then all dogs love peanut butter.
So you just mix all that together and divide it into freezer-safe cups. I found these plastic ones in the plastic bag section of my grocery store. They have tops and everything so they're perfect for this. They aren't airtight though so it's not going to last forever in the freezer.
The ice cream is also human-friendly so if you want to toss your kid outside with a cup, totally fine.
Is Peanut Butter Safe for Dogs?
Peanut butter is an excellent source of healthy fats and protein for your dog (not to mention a treat that all dogs love!) but you do need to look at the ingredient list before you share your jar of peanut butter with your pup.
Some peanut butters have an ingredient called xylitol and it is a potentially fatal to dogs so avoid any peanut butter that lists it as an ingredient.
I just play it safe and only buy peanut butter that is made with just peanuts (meaning peanuts is the only ingredient in the ingredients list). It's better for the dogs and humans in my house!
More Homemade Dog Treats Recipes
Make sure you subscribe to my email list to get all my new recipes delivered right to your inbox!
You can also follow me on Instagram, Facebook, or Pinterest for even more!
Pumpkin Peanut Butter Dog Ice Cream
Ingredients
½ cup pumpkin puree , (not pumpkin pie filling)
2 tbsp creamy peanut butter, no sugar added
2 tbsp honey
1 32 ounce container plain whole milk yogurt
Instructions
In a large mixing bowl, whisk together pumpkin, peanut butter, and honey until smooth. (You may need to warm the peanut butter and honey to make it easier to stir.) Fold in yogurt until combined.
Divide into freezer-safe containers and freeze for at least 2 hours. Let your pup enjoy them all summer long!
Recommended Products
As an Amazon Associate and member of other affiliate programs, I earn from qualifying purchases.
Nutrition Information:
Yield:

12
Serving Size:

1
Amount Per Serving:
Calories:

77
Total Fat:

4g
Saturated Fat:

2g
Trans Fat:

0g
Unsaturated Fat:

2g
Cholesterol:

10mg
Sodium:

45mg
Carbohydrates:

8g
Fiber:

1g
Sugar:

7g
Protein:

3g